Thank you
The EMS Annual Meeting 2019 was attended by 846 participants from 50 countries. We thank all of you for your attendance and your active contribution to this outstanding event. We would be delighted to welcome you back at the EMS Annual Meeting 2020, 7–11 September 2020 at the at the University of Economics, Bratislava, Slovakia.
Winner of the Outstanding Poster Award 2019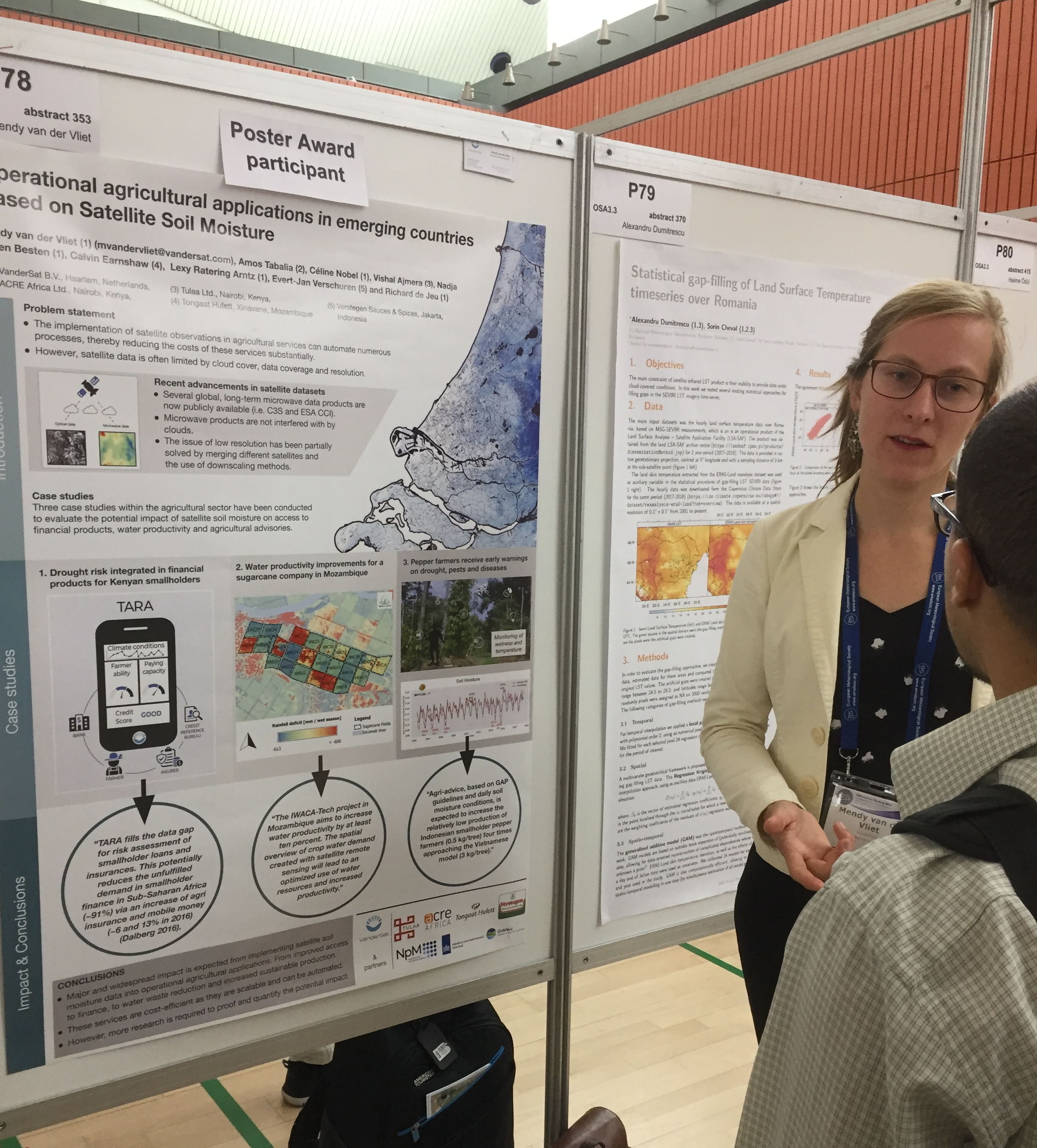 Mendy van der Vliet, VanderSat B.V., Haarlem, Netherlands receives the Outstanding Poster Award 2019 for the poster Operational agricultural applications in emerging economies based on satellite soil moisture.
The work was carried out in collaboration with her co-workers , Céline Nobel, Amos Tabalia, Vishal Ajmera, Nadja den Besten, Calvin Earnshaw, Evert-Jan Verschuren, Richard de Jeu, and Lexy Ratering Arntz.
Citation:
The graphic layout of this poster is outstanding: immediately one feels attracted to engage and investigate the poster even when seen from a distance. The main emphasis is on African countries. The general flow in the poster is logical. The text is very clear and easy to understand. Read more
Country statistics
| | |
| --- | --- |
| Country | Number |
| Germany | 106 |
| Denmark | 61 |
| United Kingdom | 61 |
| China | 49 |
| Finland | 42 |
| Italy | 40 |
| Norway | 39 |
| France | 34 |
| Spain | 32 |
| Korea, Republic Of | 31 |
| Czech Republic | 30 |
| Switzerland | 30 |
| Sweden | 28 |
| Netherlands | 27 |
| United States | 26 |
| Belgium | 20 |
| Poland | 18 |
| Ireland | 16 |
| Hungary | 15 |
| Austria | 14 |
| Russian Federation | 14 |
| Croatia | 13 |
| Greece | 11 |
| Japan | 11 |
| Israel | 9 |
| Bulgaria | 8 |
| Romania | 8 |
| Slovakia | 8 |
| Portugal | 7 |
| Canada | 4 |
| Taiwan | 4 |
| Australia | 3 |
| Estonia | 3 |
| Slovenia | 3 |
| Iceland | 2 |
| International organizations (e.g. UNO or IAEA) | 2 |
| Latvia | 2 |
| Serbia | 2 |
| Turkey | 2 |
| Bangladesh | 1 |
| Brazil | 1 |
| Faroe Islands | 1 |
| Georgia | 1 |
| Greenland | 1 |
| Indonesia | 1 |
| Iran, Islamic Republic Of | 1 |
| Lithuania | 1 |
| Mexico | 1 |
| Singapore | 1 |
| Taiwan, Province Of China | 1 |